Дизайн, искусство и архитектура: где искать в Москве во время чемпионата мира по футболу 2018
В связи с Чемпионатом мира по футболу 2018 китайский журнал о роскоши Noblesse посвятил Москве рубрику-путеводитель своего приложения Art Now. В обзоре Ольги Косыревой освещены лучшие художественные и околохудожественные места российской столицы.
Опубликовано в Art Now, приложению к журналу Noblesse ,
текст: Ольга Косырева
Where to find art, design and architectural treasures in Moscow
Part I. A general introduction of Moscow's art and design scene
It sounds a bit controversial but Moscow never was considered a cultural capital. The cultural capital of Russia, if you ask any of Russians, is Saint-Petersburg. But in the same time, while Saint-Petersburg is the big museum itself and mostly lives in past, Moscow lives now, in this particular moment, and is focused on the up-to-date things. It's an ancient capital, a former citadel, it was the seat of all Russian tsars till the end of 17th century and was raised as a trading, merchant city in the very heart of the country, on the old crossroads from the north to south and from the east to west. It always was and still is very pragmatic, energetic, busy, very much about money, too bourgeois, showing-off, fanfare and glamour. An international and contemporary and controversial as any of the megapolises of our time. It's never-sleeping, sparkling and boiling, combining everything in one – with old red bricks Kremlin walls and the extremely contemporary City where Sir Norman Foster and SOM architectural studio are building hi-tech towers, with the traffic when the whole city is stuck for hours without any movement and nicest, quiet, old world pedestrians-friendly side streets, gardens, ponds in the very middle of the city. And among all this busy life there are place to the best in country art museums, with art from Renaissance to avant-garde, and art galleries where contemporary artists of various kinds show what they have to show.
Of course there is all that old time beauty in Moscow that you can find in any tourist guide: Red Square, Kremlin, The Cathedral of Vasily the Blessed, with their timeless and so Russian look and spirit. Anyone can also find this Russian past in the interiors of two Moscow must-to-see slots – Café Pushkin and Eliseevsky Gastronom (or grocery store), both in style of the Russian golden times (by the way, Café Pushkin is finely antiquated by its owner Andrew Dellos in the style of Russian aristocratic houses of Pushkin's time only brought to the 1990's and Eliseevsky Gastronom is a real treasure from 1901 managed to survive over the Soviet years).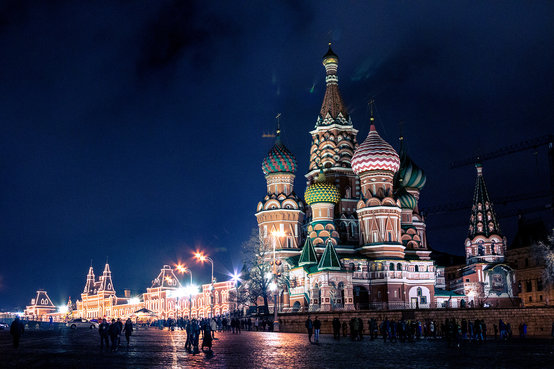 Soviet heritage is also absolutely beautiful. There is a glimpse of constructivist and modernist architecture from the beginning of the 20th cent. such as an outstanding private house of architect Konstantin Melnikov in the side street near Stary Arbat pedestrian and tourists street (fortunately it was converted to the museum recently and some lucky tourists are able to see its interior, not exterior only) and the famous and only Le Corbusier building in Russia – Tsentrosoyus building (unfortunately it's also closed to the public as the Ministry of Statistics is happily located on its eight floors).
Also the city is blessed with an incredible neoclassic Stalin era architecture including the so-called 'Seven sisters' dominating all over the city– seven skyscrapers in one of which the Moscow State University is located, with a viewing point nearby.
But the biggest museum in Moscow is Moscow Metro: don't be scared to go there. It's considered the most beautiful metro in the world and it was one of the USSR's most ambitious architectural projects. The first metro line was opened in Moscow in 1935 with just thirteen stations, but since then it had grown into the world's sixth busiest transit system after the subways of Beijing, Tokyo, Shanghai, Seoul and Guangzhou. Today there are 215 stations in the capital's subway system (44 of which are cultural heritage sites) and the network is permanently continuing to expand. All stations are full of light with their reflective marble walls, high ceilings and grandiose chandeliers. Everything is designed to glorify the Soviet empire. Don't miss the stations Novokuznetskaya, Park Kultury, Ploschad Revolutsii, Kievskaya, Novoslobodskaya and especially Mayakovskaya station with incredible mosaics by a Soviet artist Alexander Deineka on the ceiling. Its project had got Grand Prix at 1939-40 New York World's Fair and still impresses.
Another magnificent Soviet era monument is VDNKH that means The Exhibition of Achievements of National Economy. It was an All-Union permanent expo in Soviet time, opened in 1939, and now it's a kind of architectural museum in the open air, a huge park with a strong Soviet flavor, a bit of time machine. The layout, buildings, fountains, street lighting, sculptures, the main arch – everything is excessively decorated in the tastes of Stalin time. Everyone can walk for hours there keeping an eye at the decorative elements, doors, windows, small details.
And there are also up-to-date places rising on the Moscow map such as new sport building recently opened in the city centre to coming World Championship like СSKA stadium, Dinamo restored stadium. Watching and experiencing this diversity of tsarist, young Soviet, late Soviet and contemporary Moscow is the most exciting thing you should do there.
Part II. A guide to Moscow's museums, theaters and contemporary galleries.
There are plenty of museums and theatres in Moscow and every one deserves its 15 minutes of fame. For example, when we think about Moscow theaters, The Bolshoi is the first that enters to every head. Meanwhile Stanislavsky Opera and Ballet Theatre though is less famous but not worse. In June you can see their famous ballet mix from genial choreographers 'Balanchine. Taylor. Garneau. Ekman'.
The same is with museums. Of course, there are Pushkin Museum and Tretyakov Gallery – must visit for art lover. But in general there are more than 400 state and private museums in Moscow. More than 40 of them are art museums, with a huge collections from ancient art to the 21st century, and there are 20 technical, about 120 historical, about 70 memorial apartments, 15 natural sciences museums, etc., they usually are located in the historical buildings, with historical interiors, decoration, art works on the subject.
Russian Decorative museum keeps huge collection of all kinds of artefacts. If you're into theatre and theatre costume, you can visit Bakhrushin Theatre Museum to see wonderful historical costumes, scenery and costumes sketches from XVIII century until now. For glass and porcelain we strictly recommend Kuskovo Palace. It's the old estate which is not at very city center but gives you the great opportunity to feel 18th century aristocracy spirit. For old architecture of 18th also visit Kolomenskoye palace and estate. In summer you have a chance to visit some vocal and instrumental concerts in palace of Kolomenskoye as it would have been made for tsars. These places are what you can't see anywhere in the world.
A kind of Moscow hidden treasure is the Anatoly Zverev Museum – privately owned one-artist museum, dedicated to the one of the leaders of the unofficial art movement of the second half of the 20th century.
And not to forgot the most famous Moscow art museums. Pushkin Museum of Fine Art is the world's greatest museums of Western art. Like other massive museums, such as the Louvre or Hermitage, it is impossible to see the entirety of the Pushkin Museum in just one day.
The famous part of it – Impressionist and post-Impressionist collection at ХIXth and XXth century European and American art, one of the best outside of France. Most of Impressionist paintings came from Soviet Museum of Modern Western Art which was closed in 1948. A lot of works taken from Nazi Germany after the end of the Second World War and have been put on public display after decades of secrecy.
Tretyakov Gallery is the biggest museum of Russian art and paintings that has start in the middle of XIX century (1856) when rich Russian merchant Pavel Tretyakov founded private collection of Russian art. The façade of the Main gallery building was designed by the Russian painter Viktor Vasnetsov in a Russian fairy-tale style. Inside there are all the treasures and big names of Russian art, from icons to 19th century aristocrats' portraits. In June you have the exhibition of Karl Brullov, the famous Russian painter who learnt in Italy and provide Italian style in his works.
Some of Russian vanguard from 20th century can be found in New Tretiakov Gallery in the Central House of Artists at Krymsky Val street. Rodchenko and Malevich, Kandinsky and Marc Shagal, Deineka and Petrov-Vodkin, Goncharova and Larionov are collected in that concrete building that looks like a huge park pavilion from 1960s on the bank of Moscow river. Till July you have a chance to meet there very typical Russian battle style painter Vassily Vereschagin.
Near the New Tretyakov Gallery you can find a sculpture garden called "the graveyard of fallen monuments" that displays former Soviet Union relocated statues. It's worth to visit at least by reason it can be destroyed any time, this repository was conceived as temporary from the very beginning.
Close to this building is famous Gorky Park on the bank of Moscow River and Garage Museum of Contemporary Art inside it. The Museum was founded by charismatic couple Darya Zhukova and Roman Abramovich in 2008, and became the first private philanthropic institution in Russia.
Entire history of the Museum has always been closely linked with architecture. Its first shelter was the famous Bakhmetevsky bus park in Moscow (in honour of which "Garage" got its name) – a monument of constructivism, designed by architect Konstantin Melnikov. In 2012, "Garage" moved to the very heart of the capital, the world's famous Gorky Park to the temporary pavilion, designed by the Japanese architect Shigeru Ban. And finally, in June 2015, the Museum was opened at its first permanent building in the Park, which formerly housed the cult Soviet restaurant of the 1960s "The Seasons". New building restored by the world architectural star Rem Koolhaas and his office OMA.
Also, speaking on Moscow museums, an important trend in their development shouldn't be missed – their increasing technological sophistication and interactivity, using multimedia and sound components, the visitors' involvement to the performances like in Multimedia Art Museum, the Jewish Museum, the Museum of Moscow, the Center of Photography after the Lumiere Brothers. There are even Museum of Soviet Gaming Machines and Museum of Entertaining Sciences "Experimentanium" for children – both are ready not only to show but to give an experience.
Part III. Introduction of some emerging/unique art galleries, art-related boutique shops, designer's shops, bookstores, café etc;
The Moscow art scene consists of dozens art galleries, unique showrooms and shops where there are not only common souvenirs presented but also real artworks of different kind. They are located all over the city like well-known Triumph Gallery and Gary Tatintsian Gallery, both established and focused on the international and Russian contemporary artists and sculptors. And 11 galleries are united inside the Contemporary Art Center Winzavod – the largest private center of contemporary art in Russia, based on the territory of Moscow's oldest winemaking factory, former "Moscow Bavaria" brewery. Having united all directions of modern culture in one space open to a wide audience, Winzavod supports the actual Russian art and creates a comfortable environment for its development. The eldest Russian contemporary art galleries XL Gallery and Regina Gallery are its residents, alongside with young and dynamic Triangle Gallery, Osnova Gallery and 11.12 Gallery. All of them are showing and selling the works of Russian well-known and young artistes.
One more notable art place is Orekhov Gallery founded by Russian sculptor and architect Gregory Orekhov, the son of a well-known Russian sculptor Yuri Orekhov. Orekhov Junior has trilled all the art lovers last year at Cosmoscow Art Fair in September with his brilliant mirrored Tumbler doll.
Two main places that combine art with design of the 20th century are Heritage Gallery and Palisander Gallery. The first one has opened 10 years ago by art critic and trader Kristina Krasnyanskaya, now as well the curator of Kostaki collection in Greece. In 2012 Heritage was the first Russian gallery to take part in Design Miami Basel. The big trend of the Gallery is promotion of unique Soviet art from 1920's, 1930's and 1950's. Palisander Gallery is very new, it was opened only in 2017 but is an actively growing place and already attracted a lot of attention with its curated exhibitions and interesting view by its founder Alina Kovaleva. It's specialized on European design and abstract painting from the second half of the twentieth century.
More vintage lighting and furniture are in newly opened by famous local interior designers Ananiev Gallery – they collect it in USA and all over Europe from flea markets, auctions and antiques fairs and thanks to their unmistakable taste attract the best designers of Moscow. They share the space with Katia Gerdt's workshop – a design office and a shop impregnated with the French spirit, covered with cracks and a little faded, as if it was created a century ago for the most real Parisian house.
If you're fond of flea markets, Izmaylovsky Vernissage is the best. Vintage jewelry, lace, books, old vynil, ceramics, porcelain, rare furniture - that's just a small part of this famous flea market in Izmailovo.
Some Russian contemporary design, including fashion, can be found in Tsvetnoy design store. The building itself is by the honored Russian architect Yuri Grigoryan and his Project Meganom studio. It's the unique place to express the spirit of a big city - bright, eclectic and blending styles and culture. Big city which never stops and never sleeps.
L'Appartement is trendy place with elegant atmosphere and reminiscent of the interior of a city apartment. Assortment forms from the exclusive selection of cloth, interior items, bijou and beauty products by a huge number of brands, design studios and factories, both world-famous and local.
Ilgiz Fazulzyanov is our only jeweler today with international prominence. A couple of years ago he had a personal exhibition at the Kremlin Museum. All what he makes can be excellent gift to bring but not very cheap one, of course. Recently he opened the gallery near Belorusskaya metro station.
Have a look on famous Soviet porcelain IFZ, Imperial Porcelain trade mark – it could be the best gift to bring home. The factory keeps old tsarist tradition plus has a lot of soviet reminiscences. The flagship store at the IFZ on Tverskaya Street, 27 and another one at the intersection of Kutuzovsky Prospect and Bolshaya Dorogomilovskaya Street.
Numismatist Shop on Taganka – a paradise for numismatists and amateurs, collectors of heraldic symbols. There you can find domestic (pre-revolutionary and Soviet period) coins, bonds (bills), insignia of different eras.
The best bookshop in the city is named simply 'Moscow' and located on the main street of the city – Tverskaya. Two stores where you can find everything published in Russian Come and by a souvenir from the USSR – the country that not exist anymore.
And as man doesn't live by art alone, let's turn to the bread. Café Pushkin was already mentioned in the very beginning. Looking for some more old atmosphere, go to legendary Soviet TsDL restaurant (Central House of Writers), former private villa of 19 th century, recently renovated by Olga Rozet. It offers you not only stunning Russian Style interior and not only the Russian cuisine, but also the art gallery on the very top of it selling the works of the late 19-20 century artists, both Russian and Western, rather pricy.
To dine with a view all the Muscovites go to Doctor Zhivago and Beluga restaurants designed by architect Anastasia Panibratova. Both located in the same building of The National Hotel in the very heart of Moscow, at the corner of Tverskaya Street (our main street) and just opposite Kremlin that can be seen through the windows.
Text by Olga Kosyreva